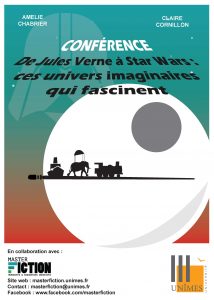 Wednesday, March 27 2019, 18H30
Auditorium Carré d'Art, Nîmes.
Contemporary fiction presents itself as infinite worlds in which the spectator can immerse himself at leisure: thanks to cinematic sagas or television series, the experience is prolonged from episode to episode; thanks to video games, the show becomes action; thanks to novels, comic books, novellisations, the universe is detailed, described, and the characters better known. Cinema, TV, video games, novels, but also websites, fanfictions, forums, cosplay, escape room, the same fiction is developing today on many media and our favourite stories populate our daily lives. Now this transmedia declination which favours immersion – and consumption – is not new: already at the end of the 19th century, it was possible to advance one's pawns on a stage of the round-the-world tour in 80 days or to collect figurines of Jules Verne's characters… From the entry into media culture to the most innovative transmedia creations, it is this history of cultural industries that this conference traces.
45 minutes conference followed by a conversation with the audience
Amélie Chabrier, MCF French Literature, UNIMES
Claire Cornillon, MCF Compared Literature, UNIMES