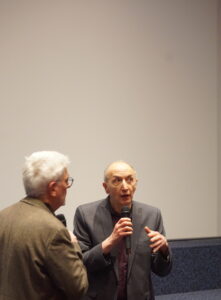 Exceptional private meeting, within the framework of the Ecrans Britanniques Festival, between the students of the Master HIC and Gary Yershon, British composer nominated at the Oscars for the music of Mr.Turner. This meeting took place thanks to Manon Sabatier, who was on an internship at Ecrans Britanniques. Thank you Manon!
The meeting took place on Friday 6th March 2020 at the Lycée Daudet.
The film Happy Go Lucky (2008), the first film sealing the friendship between Mike Leigh and Gary Yershon was shown. It was followed by a Q&A in which the students of the Master's programme and some students from the Nîmes Conservatory were able to ask Gary Yershon questions about his work, his career, his approach to music, as well as his way of transcribing a script into music.