On december 17th, 2018, the daily newspaper Midi Libre dedicated an article to our Master.
Read the article :
MLNIMES_A l'université de Nîmes un master unique en France 17.12.2018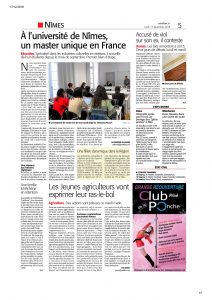 Published on 09/10/2018
Nîmes : what's new for the new academic year
Emmanuel Roux, the President of the University of Nîmes, unveils the new features for the 2018 academic year.
With nearly 5,000 students (15% more than in 2017), UNIMES, the university of Nîmes, continues to win its letters of nobility. In the heart of people from the Gard to begin with. They are indeed nearly 80% of students coming from the Gard to choose the university of the city of Antonins to register in bachelor's degree. What are the news at the dawn of this new year?
[…]
The creation of a master's degree in Production, Uses and Interpretation of Fiction
Unique in the Deep South, this master's degree (the first to open in Human and Social Sciences at UNIMES) trains creative industry professionals in the field of fiction and narrative through a common core of research seminars and writing and creation workshops that explore in an interdisciplinary way all aspects of contemporary productions (economic circuits, legal dimension, narrative and aesthetic functioning, ideological context, reception effects).
https://www.midilibre.fr/2018/09/10/nimes-les-nouveautes-de-la-rentree-de-luniversite,4693643.php