Friday 16 october 2020,the master FICTION will be pleased to host for a professional meeting Sarah-Cheyenne Santoni, actress, director and creator of the Nîmes en court festival.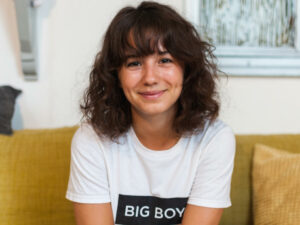 Sarah-Cheyenne, 24 years-old comedian and director
After a bachelor's degree in cinema at the University of Montpellier, a master's degree in Fiction at the University of Nîmes and a formation at the Cours Florent in Montpellier, Sarah-Cheyenne played in different series filmed in the region (for example, she played Louise in TF1's short programme " Pour Sarah"). Since 2016, she has played the recurring role of Alice in the police series "TANDEM" broadcast on France 3 and since this summer the role of Élodie, in the new daily series entitled "Ici Tout Commence", soon to be broadcast on TF1. Parallel to this career as an actress, she also directed two short films: "ENSEMBLE ", which won an award and was broadcast at the A ton court! festival organised by France 3 and "Au-delà des mots ", which was produced for the Nikon Film Festival.